The bible is not silent concerning business dealing as the church and society will have us believe. The profound truth is that the Bible is one of the best business textbooks around. If you get acquainted with the outlined principles within its pages, you will run a very successful godly business. I present here in this article five powerful principles from the bible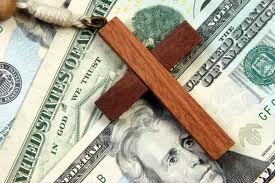 for a successful business operation.
1. Diligence
This is the constant and earnest effort to accomplish what you've undertaken. This is the habit of staying on course until your desired goals have been achieved. We find in the scriptures this statement, "Seest thou a man diligent in his business? He shall stand before kings; he shall not stand before mean men" (Proverbs 22:29, KJV). If diligence is one of your guiding business principles, the Bible says, your success will draw the attention of Kings – people in high leadership positions.
To be successful; this business principle in the bible encourages steady, earnest and energetic effort. With diligence you can become a national hero without applying for it. The scripture says, "He becometh poor that dealeth with a slack hand: but the hand of the diligent maketh rich" (Proverbs 10:41, KJV). Here we see that poverty comes easily to those who folds their hands and would not put them to earnest productive activities. Those who are industrious and dedicated will become wealthy.
2. Fidelity
This is the act of devoting our time, energy and resources to achieve a predetermined cause or goal. It is the quality or state of being faithful. This principle entails accountability. Every successfully business demands a loyal, accountable person who can be trusted with the activities that would produce profitable results. We read, "And he left all that he had in Joseph's hand: and he knew not aught he had, save the bread which he did eat. And Joseph was a goodly person, and well favoured" (Genesis 39:6, KJV). To be faithful a person has to be committed, devoted and mindful. Fidelity separates those who perform their call of duty from those who are wholly faithfully committed no matter what.
3. Honesty
Truth is the umbrella that covers biblical business practices. The bible and business walk hand in hand. Bible principles direct the business practices and operation. It's written, "But thou shalt have a perfect and just weight, a perfect and just measure shalt thou have: that thy days may be lengthened in the land which the Lord thy God giveth thee" (Deuteronomy 25:15, KJV). You cannot be a Christian business person that indulges in manipulation, deceit and cheating. Your business dealings according to the bible must be transparent.
4. Skills
Every successful business will require skillful workforce. What does the bible say concerning this? We read "God to the ant, thou sluggard: consider her ways and be wise" (Proverbs 6:6, KJV). Again the Bible says, "Having then gifts differing according to the grace that is given to us, whether prophecy, let us prophecy according to the proportion of faith" (Romans 12:6, KJV). The specialties of each personnel in a business will work together to promote the profitability of that enterprise. You need skilled people in today's business to succeed.
5. Integrity
Sound moral values are a plus in a thriving business. What is more important in business than to have undivided, unbroken personnel that are loyal to the entity. We read, "The integrity of the upright shall guide them: but the perverseness of transgressors shall destroy them" (Proverbs 11:3, KJV). The exercise of integrity demonstrates moral discipline in our business responsibilities.
The Lord is a God of principles; you cannot run a successful business without his guiding principles. Run your business the bible way and watch it blossoms. You cannot be a born again Christian that owns a business yet ignores God's principles of true business success. It won't work and would not last long, so seek his guiding principles in your endeavors.
Article Source: http://EzineArticles.com/6909704
Forward by Dr, Edward c. Roberts, Calvary Christian Church, Charlotte, North Carolina. "As the author indicates, financial discipline is a necessity, rejecting the peripheral temptations to invest and manage monies unwisely and neglecting one's relation and obedience to God" Dr. Udofia's book will challenge
Tweet