Living by faith is no exception to challenges. Every undertaking in life has some challenges, be it spiritual or natural. We're reminded in the scriptures by these words, "Yea, and all that will live godly in Christ Jesus shall suffer persecution" (2 Timothy 3:12, KJV). The born again experience transforms us into the image of Christ through his Spirit. There's a profound statement made in the scriptures worthy of close attention. It implies that a godly person shall live his/her life by faith. Here are some factors that can complicate the life of faith and have the power to make or break us.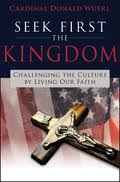 1. The well-being (prosperity) of the unbelievers.
This tends to challenge our living by faith as we witness those who live wickedly day after day prosper in the material aspects of life. There is the need to have proper understanding of what the scripture says on this regards so as to avoid being discouraged. See Psalms 73:1-20.
When we focus too much attention on how well an unbeliever seems to be doing materially, we can lose hold on eternity without knowing and our faith in God will be weakened. Study God's word closely to gain proper perspective on the prosperity of those who snubs at God.
2. When hardship confronts us like other.
Let's get one thing clear, the natural life is natural and the spiritual life is absolutely lived out by faith. Somehow along the line we've been made to believe that as a Christian who worship s God and live by faith, hardship shouldn't come our way. To think that way is to make God's word a lie, that may be a general notion held by the society, but it isn't the word of God. See John 15:17-21.
We don't suffer as people who are rejected. We don't suffer as those who are abandoned, but the Bible says, "Yet if any man suffer as a Christian, let him not be ashamed; but let him glorify God on this behalf" (1 Peter 4:16, KJV). Our Father Abraham endured hardship (Hebrew 6:15), Apostle Paul endured hardship and we must arm ourselves with the same mind when hardships come our way. See 2 Timothy 2:2-4
3. When we're combating societal and personal influences.
Nobody is an inland, like it or not, directly and indirectly, we're subject to the cultural and personal influences around us. This is the challenge of living by faith and also on opportunity to demonstrate publicly what faith in God can overcome. The important thing for you to do is continue living in faith bearing in mind that others are watching. Just because a practice is popular among our friends or in the society we live, doesn't mean it's scripturally permissible or right.
4. False prophets, prophetess and prophecies in and out of the church.
It's a principal challenge to living by faith. This spirit is so rampant, that you can get caught up in the midst of this falsehood if you're not rich in the word of God. There is nothing surprising; there have always been false messengers throughout the Bible.
We're reminded that false prophets shall arise and carry out false signs and wonders that have the ability to pull many away from their faith in God. The foregoing gives us the glance of the challenges of living by faith. Check back on the link below for more.
Article Source: http://EzineArticles.com/7075533
Tweet