One of the keys in supernatural breakthrough is to be united in purpose. Division is a cancer at the very root of success or progress. Until all important players on a definite goal come to irrevocable agreement, no sustained progress can be made. The scripture says, "Can two walk together, except they be agreed?" (Amos 3:3, KJV). Here, the obvious answer is no, walking together calls for unity of purpose. This article seeks to enshrine the benefit of having a common front in life's pursuits with the chosen principal players.
The authority of a believer is something that is sometimes taken for granted because of not fully understanding the power of its application. Jesus said, "Again I say unto you, that if two of you shall agree on earth as touching anything that they shall ask, it shall be done for them of my father which is in heaven" (Matthew 18:19, KJV). Believers that are united in purpose can overthrow every satanic obstacle that may face them.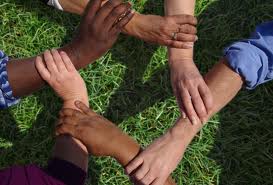 Its' rather shocking that with such a profound statement from the mouth of our Savior, we don't strive by all means to talk in the unity of purpose. The validity and power of God's word is unquestionable but is limited by:
• Division
• Disagreement
• Unbelief
• Faithlessness
• Inaction
Heaven stand to honor and back us up when we're united in purpose trusting the Lord by faith in our endeavors. There is tumult in the demonic realm when the children of God stand heart to heart in unity of purpose.
To counteract this, Satan instills among us the spirit of disunity, making it hard for us to get our ship off the shore. If we strive to walk in unity, here are profound benefits.
1. Many of the unanswered prayers will be activated by faith
2. There will be peace and a sense of belonging that shall overshadow the body of Christ.
3. The Lord will rain down commanded blessings that nothing could stop the flow. See Psalms 133:1-3
4. God's spirit will move freely among us distributing to the needs of the body.
What part do you play to strengthen the ground of unity? This is expressed by the "Four P's":
• Persistence in doctrine
• Persistence in fellowship
• Persistence in sharing and caring
• Persistence in prayers
Each member of the original one hundred and twenty were said to exhibit these characteristics. They were in one accord and in one place. This isn't easy to obtain but once we understand the power of being united in purpose, we'll persevere to achieve it.
Selfishness is swallowed up in unity. With unity of purpose, the tendency borders on seeking for the common good of the whole instead of the part. One more element that enhances the ability to be united in purpose is sacrifice, the willingness to give up your convenience for the cause of the united purpose.
When we come together with one purpose and stake our claims on it, Satan cannot stand in our way. Shy away from division and embrace unity in your Christian walk by the grace of the Lord Jesus Christ.
Article Source: http://EzineArticles.com/7018896
Tweet